Jim goes "commando" and raffle tickets now on sale - 4/6/2008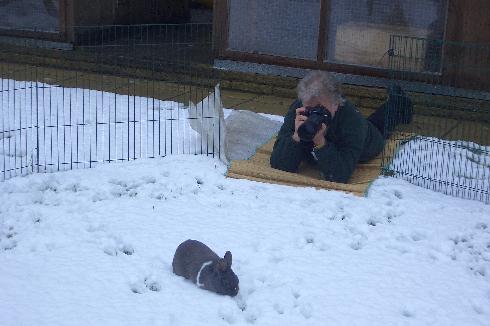 Oh, what a funny week it has been. First we got all excited with the sunshine on Friday and hoped that the rabbits could have a play in their runs on Sunday, and then today, it snowed so they couldn't. Everybody was a bit strange as a result, none more so than Jim. When Will announced that Jim was "going commando in the garden", all the volunteers rushed outside trying to hide their excitement, to find Jim lying face down on a straw beach mat flashing with his camera like the paparazzi while first, Bacardi and then Reggie binkied in the snow. "I'm taking the December calendar photo" he proudly announced. Oh how we chuckled as another lump of snow fell on his head.

We all shed a bit of a tear today actually, because all of the rabbits have been reserved apart from a lovely pair called Dave & Daisy. They would so love to find a new home over the next few weeks. Maybe they are the buns for you. We also have a small number of piggies available still. If you are looking for a pair, maybe you may like Perkin & Pootle. Otherwise we have the squeaky Poe, 'people nipper' Splodge, handsome Ramy and 'Romeo Romeo wherefore art thou Romeo'. Give us a call or drop us an email if you would like to make an appointment to meet one of them.

All the volunteers are still busy getting ready for the Fun Day in May. Pat has a very clever friend who has made the poster this year, and it's hilarious. Raffle tickets are now on sale and the online auction is open. Check out our 'Fun Day' page to see what you can bid on. It's not long now. Keep checking the website to find out the latest news.


We are next open:
***After 20 plus years it is with great sadness that we have decided that the time is coming to bring Bobtails Rescue to an end. Bobtails will finally close 1st November 2022***



Visit Our eBay Shop

Breaking News