Mr Scruff - 9/1/2005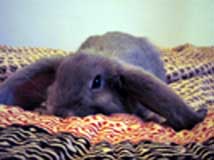 Something struck me bang on the nose this week Ė no, it wasnít a giant bumble bee, and no it wasnít a badly behaved child, it was the fact that Bobtails really does rehome its bunnies to some lovely people.

All too often I tell you about the bad things people have done, but what I donít tell you very much about is the people who very quietly go about loving and treasuring their bunnies.

Delia was at the vets this week and bumped into a couple of ex-Bobtailers and their new mum. One of them has been losing weight and her new mum was visibly worried. She really really does care, which is lovely. How many people wouldnít even notice their bunnyís head had fallen off, let alone that it was losing a bit of weight?

To all you Bobtail bunny lovers out there who love your bunny as one of the family, I say well done. Iím very proud of you all.

And while weíre on with soppy things, a very big nudgey cuddle must go out to Lindsey Massingham and her mum and dad Paul and Sue.

Lindsey comes to Bobtails with her friend Laura to help out, but her mum and dad decided they wanted some Bobtails action too so they held a plant sale. Despite atrocious weather they managed to raise more than £70.

Me and some of the lads up in the top shed were looking forward to spending the cash on a few rounds of golf and a couple of spa treatments afterwards but she who must be obeyed said Ďabsolutely notí and said the money was to be used for something important. Computer lessons for Techno-idea Jim perhaps??

Talking of whom, remember the cute picture of me he managed to delete? Well my old mum sent another copy and here it is. Week in, week out I make fun of the loyal few who help out at Bobtails and to prove that I am as good as sport as the next bun, take a look at this picture, have a giggle and please move on. To me itís humiliating and is the equivalent of your mum showing your future wife a picture of you nude in the bath at the age of two Ė unnecessary and very very wrong.

Last week I told you some very bad news about a badly treated bunny and the phone was red hot with people ringing up to register their horror. Delia says thank you very much for your support and that weíll let you know how the matter progresses.

I have to say Iíve taken a bit of an interest in cricket over the past few weeks. Itís so much easier to follow than footie or rugby Ė you can start watching a game, nod off for several hours and wake up to see the same people doing the same things on some grass. I was literally climbing the walls with excitement over the weekend when the commentators started talking louder and faster. I donít know what they were talking about or who won but I know that chewing on the wallpaper eased my nerves a bit. I heard Laura blaming Tess the dog for the chunks of wallpaper littering the kitchen floor but she who must be obeyed matched the teeth marks on the evidence to a rather large rabbit and pointed the finger at me. She thinks Iíve developed a taste for it Ė little does she know that my nerves are shot to pieces because of the cricket and I chewing my finger nails just didnít ease the pressure.

Anyway, enough babbling on. The Bobtails volunteer army, which always has room for one more, is gearing up for a very busy time. There are 28 of my friends on the waiting list due to come in and for every one of those lucky enough to settle into a Bobtails hutch and run, thereíll be 10 more waiting to go on the waiting list.

Some days I just donít feel I can do enough to help them all. As Iíve said many a time, if youíve got a bunny, go and give them a nudgey cuddle just to let them know how lucky they are.

Until next week...

We are next open:
***After 20 plus years it is with great sadness that we have decided that the time is coming to bring Bobtails Rescue to an end. Bobtails will finally close 1st November 2022***



Visit Our eBay Shop

Breaking News