Scruff's Scribbles - 8/1/2005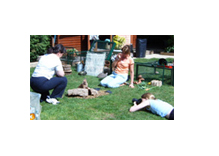 I've always known I had the looks to be a model and this week I was proved right. I was playing out in the garden and there was a photographer following my every step. Snap, snap, snap – as I ate grass, did a binky or two, even when I was washing between my toes, she was there shooting my every move.

Of course I behaved like a true superstar – I turned my back on the camera and refused to smile until they brought cabbage to my dressing room and fitted one of those mirrors in my bathroom with 100-watt lightbulbs all the way round. I even asked for a dressing gown and slippers with my name on but I think that was taking it a bit too far.

I heard Delia telling one of the volunteers that the lady was called Celine and she was there to take our photos for the Bobtails calendar – she's a professional you know. I do hope they have the decency to put me on the front cover, but she-who-must-be-obeyed told me only the well-behaved bunnies will be in the calendar.

While I was busy puffing up my fluff for the photos it seems a new French lop called Vicky moved in. Usually I clock every bunny that comes through that gate, so you can imagine my horror when I found out that I had missed one of my own coming in.
She's black and white and, according to the lads up in the top shed, she's gorgeous.

Perhaps Cupid is on my side after all. Now I've just got to meet the beautiful Vicky.

Despite missing her arrival, I did see two dwarf lops moving in. Their owners were just fed-up with them, poor little fellows.
We're full to bursting at the moment. Would you believe there are 78 waiting to come in?

It's holiday season, which means people either want rid of their buns because they can't be bothered to find bunny boarding or they want rid of their buns because they have left it too late to book bunny boarding.

It makes me so sad. Why can't people think ahead when they're booking their holiday. They book the flights, the accommodation, even buy fancy new bikinis and insurance – so why on earth why can't they book the bunny boarding too.

For those in any doubt about good bunny boarding, click on the Links link on this page and check out our list of lovely laydees who will be only too happy to help you, providing you give them plenty of notice.

It's not all doom and gloom, while we are full and have 78 rabbits waiting to come in, there are buns being bonded all the time and heading off to new homes loved and in love.

Do you remember the one-eared bunny Hans Solo? Well he's just been paired up with Smartie and he's so so happy. He left here grinning from ear to...well, he had a very big smile on his face.

Sometimes I do put my very large French lop foot in it. Hans Solo is a good lad, he'll know what I meant.

What worries me more is there's a Brown Owl coming to visit me next week with some Brownies, who I can only presume are smaller Brown Owls, who want to interview me. I'll have to be on my best behaviour because owls are very wise and will spot what a fool I am straight away. Delia's told to me I'll have to watch my mouth, which I'm going to find very hard to do without a mirror, and I'm not allowed to joke, fool around, chew the furniture or do any of my other favourite tricks, including chewing wires.

Delia called me a real bright spark this week after I chewed through a wire on the air conditioning unit. It was of course completely her fault for not hiding the wire from me – thankfully it wasn't live and I'm still here to tell the tale. I really did have a very stern word with her, telling her my life had just flashed before my eyes and I needed a very stiff drink to calm my nerves. She chucked me a cabbage leaf and told me to 'count myself lucky'.

After I pulled myself back together again after my near-death experience, I had a little hop around to see what those laydee volunteers had been up to.

There was a couple of new faces helping out – Will and Sarah. They were doing a fabulous job feeding a poorly young bunny who was brought into us. They made a very good team.

I'd was keeping half an eye out for birthday girl Sue, who celebrated her 30th with us last week, but she was nowhere to be seen. Then I heard on the grapevine that she'd hurt her foot and is on crutches. Now in bunny world if someone has a party and then turns up on crutches they've had a jolly good time on the cider, but I'm not sure if that's the case in the human world. Perhaps, her buns would drop us a line to let us know.
On a serious note, I hope she's ok and will be back with us soon.

I have had a few exciting emails this week which I will share with you next week. I've given my secretary the week off and I very much doubt that I'll have the time to write a proper Scribble for you – I am seeing the owls after all.

Nudgey cuddles to all – and don't forget you can contact me on mrscruffsuperlop@aol.com.



We are next open:
***After 20 plus years it is with great sadness that we have decided that the time is coming to bring Bobtails Rescue to an end. Bobtails will finally close 1st November 2022***



Visit Our eBay Shop

Breaking News