Scruff's Scribbles - 7/18/2005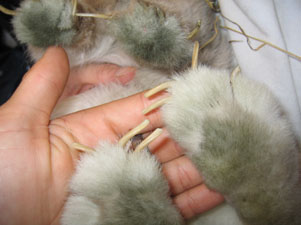 As I am writing to you this week, I am absolutely hopping mad. Some people really drive me to despair.

I was sitting minding my own business on Saturday afternoon when a cruel woman and her cruel teenage daughter brought a seriously neglected guinea pig and rabbit into the rescue.

I couldn't help but overhear that the daughter got fed up of the pair when she got a horse. The bun, Holly, pictured here, hadn't been out of her hutch for two years and, according to the mum, was "living in squalor".

Delia was furious. Holly's toe nails were curling up under her feet and she had a filthy matted bum, and while the guinea pig, Treacle, was in a better condition, he wasn't that much better.

Holly is supposed to be aggressive, but I've seen her with Delia and she's an absolute poppet. She's five or six years old and really needs some proper TLC, which she will certainly get from Bobtails.

It is very very sad when children get bored of their pets. And while we were all furious about the state Holly had been allowed to get into, we acknowledge that the mum and daughter did the right thing by bringing Holly and Treacle to us – it's just a shame it came a couple of years later than it should have.

On a much lighter note, I've got lots of good news for you this week ...

Firstly, Tess, Jim and Delia's beautiful canine chum is feeling better. After she had her lumps removed last week she became very ill and we were all very worried about her. I nursed her through the night, offering her food and nudgey cuddles but she just kept looking so sorry for herself.

Today, she was starting to pick herself up a bit. Her test results revealed her lumps were fatty lumps and nothing to worry about. Does that mean she'll be on a diet now and there will be more food for me??

Another piece of good news is that Loopy, the rabbit who was left in a house which was about to be demolished has been offered a new home, which is fantastic because that girl is a true star.

Lots of out bunnies have been rehomed, which is fabulous but there are always more needy bunnies waiting to come in.

There's something exciting happening at the weekend. Me and some of the lads are hoping for a bit of party action in the garden again as the Cordell household hosts another booze-up. Because I've got all the brawn and brains, they send me down to the fridge on a secret mission for after-hours scooby snacks. They're always disappointed when I return empty-handed because the cabbage in the fridge has been replaced with Special Brew. Honestly, the service at this hotel is terrible.

I could try rolling a few tinnies back up to the top shed but there's bound to be a few eagle-eyed laydee volunteers at the party to remind me that firstly I'm underage and secondly bunnies shouldn't drink beer. Mind you, judging by the state of Dim and Jelia, as they become after a few sherries, humans shouldn't drink beer either.

Of course if I did get the beers past the party laydees, that bloomin' squawky shuttlecock in the dining room would grass me up.

All week, over and over, he's been saying at the top of his voice: "Mr Scruff leave it alone. Scruffy will you stop it."

Bloomin' big mouth. The stupid thing is that when he, Joe parrot that is, starts his tell-tale squawking, she who must be obeyed comes rushing in to find out what I'm doing wrong, which, of course, is nothing.

I stole his food – that's what rattled his cage initially. Then she hid it. So, not one to be put off, I decided to ruffle a few more feathers by running round and round his cage looking for the food.

I never did find it, but it's only a matter of time.

Talking of those laydee volunteers. Some of them came to visit on Saturday afternoon and held a secret meeting in the lounge. I, of course, wasn't invited because I can't be trusted ... but I had my moles.

Flossy (Little Lamb) and Einstein (give me a new name please) were in a pen in the lounge and relayed everything to me, via a satellite link. Get your head round that, Tech-No Idea Jim.

Sadly, all I could make out was that they were in the lounge and had the code name 'car park' written on a flip chart which is where they put everything. When some of them, led by Martine, started talking about the handsome men on next door's roof, Floss lost interest and disconnected the satellite link as she flopped into unconsciousness. Meanwhile, Einstein pondered the technicalities of having a car park in the lounge and concluded it wasn't physically possible, and then also went to sleep.

When they woke up, the laydees had all gone to the pub. Typical!

After some surfing on the internet, I found out that a 'car park' is a term used by funny southern luvvies alongside other sticky droppings business terms like blue skying, digging down and thinking out of the box. Humans are so funny.

Anyway, moving on. One of the special laydees at the meeting was Sue and she's very lovely. If I was a bit older..... Anyway, we're hoping to give her lots of nudgey cuddles on Saturday because it's her 30th birthday.

My last bit of business for today is to tell you that Tech-No Idea Jim did manage to get my email address up and running. So if anybunny out there wants to pass on a nudgey cuddle, share a problem or tell me a carrot-top of gossip they can write to me at: mrscruffsuperlop@aol.com

Don't be shy – especially you laydees.

Nudgey cuddles to you all and don't forget to tune in next week.

We are next open:
***After 20 plus years it is with great sadness that we have decided that the time is coming to bring Bobtails Rescue to an end. Bobtails will finally close 1st November 2022***



Visit Our eBay Shop

Breaking News