Scruff's Scribbles - 7/12/2005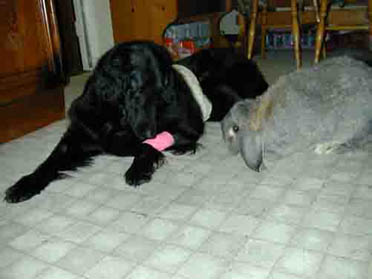 This week has been a very important week for me Ė itís been prom week.

Iíve heard so much about these prom things and got so excited when Laura was preparing for the big event.

I didnít want to let her down so I hopped on the number 59 bus into town to find something special.

ďHereís a slinky little black number,Ē the man in Debenhams said as he paraded the sexy bow tie in front of my nose. I thought the colour clashed with my coat and asked him for something brighter.

The yellow was too shocking, the pink just wasnít me but the red was perfect. Laura was going to be so proud.

While she put the finishing touches to her make-up, I slipped up to see the lads in the top shed to ask them what they thought of my outfit.

Very dapper was the consensus, so I hopped back off into the house to greet my prom date as she glided down the stairs. I even had a red rose in my mouth.

Sadly, even though I am obviously her beloved, I wasnít going to the prom as her date. She ruffled my hair, told me to stop eating her mumís flowers and said: ďDonít wait up.Ē

Of course I did wait up, and was very glad that I did. Thankfully I was on hand to supervise her prom party, which involved about 50 teenagers and rocked on into the early hours. I had a ball. Imagine 50 young girls all wanting a cuddle Ė bunny heaven.
And the morning after I had even more fun. They all flopped out on the floor and I had the great pleasure of informing them it was morning, and therefore time for more cuddles. Fantastic Ė probably the best night of my life so far.

Anyway, enough of that. Itís been a very bad news week in the outside world so I thought I would share some good news with you instead.

Do you remember Loopy from last week? She was left alone in a house that was going to be demolished and our hero Jim went to rescue her. When he collected her she screamed and screamed with utter fear.
Well, one week at Bobtails and sheís a different girl. Sheís so happy, so attentive and so very very grateful for anything Jim and Delia do for her. The woman who abandoned her said she was aggressive but there is no way on earth that little bun would be aggressive, sheís delightful and will make someone a fantastic pet. Sheíll be ready to meet her new mum and dad in the next few weeks.

Some other Bobtails fluffies who will be ready for their new homes soon are the guinea pigs who were struck down with heat stroke on their way into the rescue. One was so poorly that he was fitting when he arrived here after a long car journey in the heat, with no air or water. Some people make me so cross. Anyway, they have put on weight, look lovely and healthy and all need a bit of loving.

My last bit of news this week is about Jim and Deliaís dog Tess. She went on her hols last weekend to the New Forest and came back stinking to high heaven Ė passing wind after the lights go out is one thing, but how on earth she came to smell like that Iíll never know.

Anyway, the poor girl couldnít have a bath when she got home because she was off to the vet on Monday to have some lumps removed. Delia said itís hopefully nothing to worry about, but when she came home she looked dreadful. Her eyes were all droopy, she had a pink bandage on one leg, a bandage round her tummy and she still smelt bad.

Of course, I had a serious talking to ĖĎdonít do this, donít do that, donít so the otherí.

Iím a sensible boy, I know when to charge full pelt at a flat-coated retriever and when not to. Iím actually quite sensitive and have been doing my bit to help her recover Ė in return Iíve been extra cabbage.

Told you I was sensible.

Anyway, thatís probably about it from me for this week. Iím still waiting for tech-no-idea Jim to get my email address up and running. Heís still in the garage looking for the relevant equipment. Iíve told him he doesnít need to put up another aerial to get an extra email address linked to the website but he wonít listen. Heíll be trying to recruit a carrier pigeon next Ė I donít know. With any luck you might be able to get in touch with old Scruffy here direct but in the meantime Iím sending nudgey cuddles to you all.

Until next week...

We are next open:
***After 20 plus years it is with great sadness that we have decided that the time is coming to bring Bobtails Rescue to an end. Bobtails will finally close 1st November 2022***



Visit Our eBay Shop

Breaking News