Scruff's Scribble - 7/5/2005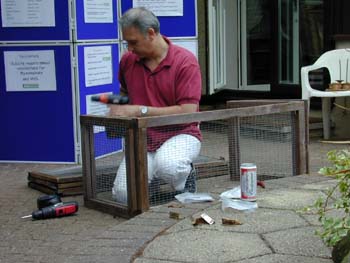 It doesnít seem five minutes since I was last sat here writing to you all Ė time is going so fast.

We had a bit of a party here at Bobtails on Saturday night. Delia and Jim were busy entertaining their family, so a few of the lads crept into the lounge to watch a bit of the Live 8 gig. We tuned in just in time to catch Maria Carey Ė what a stunner. Could she have squeezed anything else into that tight black sock she was wearing. Sheís a quality bird, but I have heard a few mutterings from some of the laydee volunteers about her large...hands.

Anyway, Iím sure Sir Bob will be delighted to know Iím sending him nudgey cuddles for organising a top night out.

Talking of the whole G8 thing, Iíve heard on the news that poor old bunnies in Scotland will need to be on their guard this week with old Glen the Eagle and his buddies swooping about.

While I remember, a few weeks ago I told you about some top bunny boarders operating in the area, including Karen in Hayes. I said she was in Staines, which was a bit of a mistake. I went on a very exciting bus journey once, I needed to get to Staines and had to go via Hayes, which is where the confusion came.

It was such an interesting journey. Nobody spoke to me and nobody smiled, but there were some very interesting smells floating about.

We had quite a busy Sunday this week. The laydee volunteers noshed the party left-overs and decorator Conrad, crowned Miss English in last weekís scribble, finished off the booze while trying to look busy fixing hutches. Jim captured him in action with this photo. Poor Conradís come in a for a bit of stick recently, but itís only because I couldnít get away with taking the mickey out of those feisty laydees as theyíre the ones with the cabbage and biscuits.

Iíve got good news about beautiful Bluebell. This lovely little girl who was featured in last weekís scribble has three people hoping to give her a home. Itís so strange that this time last week no-one wanted her and now she is waiting to meet her new mum.
Sheís a lucky bun, as is Loopy who was rescued this week by Jim ...

Bobtails had a call last week from a woman who was moving out of her house because it was being demolished. Most bunny lovers would take their beloved with them, but not this woman. She said she was leaving the rabbit, named Loopy, in the house. After a fraught couple of days of trying to get into the house, Jim managed to get Loopy out before the demolition crews moved in.

She was absolutely petrified and screamed and screamed to begin with but soon settled in here at Bobtails. She had been left with a bit of food but no water and was gasping for a drink. Donít forget to tell you humans you need plenty of water in this warm weather.

As Iím sure youíll all know by now, I am a handsome young man who is always on the look out for Mrs Scruff. Quite often Iíll be on patrol in the Bobtails residence and come across a couple of young buns having a snuggle in the conservatory. Delia says theyíre bonding and I should leave them alone, but I canít help but wonder why itís not me in there working my charms on a bonny weee bunny. I sit and watch them through the glass for ages hoping it will be my turn soon. I even flex my muscles at the young laydees being bonded, hoping theyíll ditch their date for a funky French lop but they never do. Hey ho, single days arenít so bad. At least I can eat what I like, watch birds on TV, laze around with the lads and pass wind after the lights go out.

Anyway, on that note, I think Iíll retire for the night. Iíve had an awful lot of cabbage for tea and feel there may be a hurricane forecast. Anyone for a nudgey cuddle? Thought not.

Until next week.........

We are next open:
***After 20 plus years it is with great sadness that we have decided that the time is coming to bring Bobtails Rescue to an end. Bobtails will finally close 1st November 2022***



Visit Our eBay Shop

Breaking News