Take a L@@K at our enhanced website! - 3/20/2010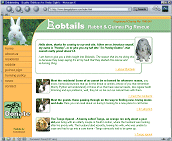 You can now link directly to our eBay shop and also help us raise funds by searching through Easysearch using the animated button in the bottom right-hand corner of the screen. We get 1 penny for every 2 searches and it costs you nothing!

You'll also notice new icons on our available animals pages to show when they have a new photo, updated information, are available to feed in our eBay shop or are a new arrival.

We have also started adding You Tube links, so you can view a video clip of your favourite animals in action!

Please let us know what you think of our new website by leaving a message for us in our guest book. You can also leave suggestions of further enhancements.

We are next open:
***After 20 plus years it is with great sadness that we have decided that the time is coming to bring Bobtails Rescue to an end. Bobtails will finally close 1st November 2022***



Visit Our eBay Shop

Breaking News